Fight as a boss troll with 12 upgradeable skills. Kick, Knock, Wheel, Quake, Taunt, Jump, Ram and Loot your way through the horde!

Defeat various enemies: from small rats to huge ballista-wielding rhino and buffalo bosses. 21 types of enemies and 15 bosses.

Manage the crowd of goblins. Make them builders, looters, miners, loggers and more to harvest resources, restore the fort, get the loot and build new structures.

Manage the fort. Build and upgrade 7 buildings with 3 levels of upgrades from small huts to great castles.

Build and upgrade defense towers. Each fort has 4 towers with 4 types of weapons (stone-thrower, archer, catapult, bomber). Also upgrade weapon types at the barracks.

Hire and upgrade orc mercenaries for support- but don't let them die on the battlefield!

More than 50 goals and achievements.
This developer is really great and makes good games! Did you know about their previous games? Game Title is a great venture for this developer to make it's exciting debut!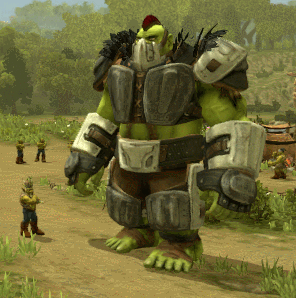 1/2
ss_e41212bd3bc89a1e12eb8b688b3930570c0ab507.1920x1080
ss_8705f564e5ce2bf2780460422f9c6518b03717fa.1920x1080
ss_325535e1dbad5ce895606d9b0834590dbe415b6b.1920x1080
ss_449ae214599d1c0ae81807dff40a6098a3e1a1b5.1920x1080
ss_2b7a49afbb4f49e28dd20702cee31cfc218d2fc3.1920x1080
ss_3efa46321b00480d08b7265c934cd1b524bdeed4.1920x1080
ss_7fb000b684153bd9f0724dfe0c523a9374cc7e82.1920x1080
ss_45d93c52e341c0c03be7a3be9bbbac3bbafd90ae.1920x1080
ss_fd16fe2682b290488ddfee8445ffbf9e65620014.1920x1080
1/1